Strutmasters is happy to announce that we have saved our customers...
Strutmasters is a suspension manufacturer founded in 1999 by Chip Lofton. Specializing in air-to-non-air suspension conversion kits, Strutmasters has become an industry leader in the world of suspension. Strutmasters offers affordable total solutions to fixing costly complex air, magnetic, electronic, and hydraulic suspension systems. What began as a personal project to repair a family's only vehicle, Strutmasters has grown into a nationwide provider of suspension solutions and has truly earned the title "The Suspension Experts".
To provide products and services that exceed the needs of our customers while building business-to-business relationships with repairs shops across the country. Our professional, knowledgeable and friendly technical support team will help teach and problem solve. And, we'll offer our products at the most competitive price available.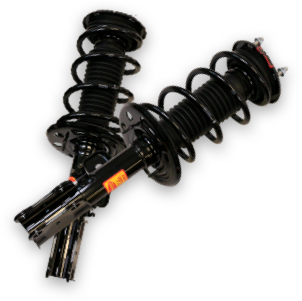 Why We Are the Suspension Experts®

We started in 1999, and plan to be around here in 2099! While Strutmasters has been leading the suspension conversion kit industry for the past 21 years, the combined engineering, technical and mechanical experience between all of our experts here at Strutmasters spans over 100 years of knowledge and experience!

Fast and Helpful Service and Support
When you call Strutmasters, you know that you will talk to a live person right here in the United States….No outsourcing, no robots, and absolutely no listening to an automated phone directory. Our solo office houses our customer service reps, accountants, managers, and tech department under one roof. Just give us a call and a friendly, knowledgeable customer service rep will be able to take care of you every step of the way! Unlike some companies, we are here to guide you through the install process and beyond! As long as you own our product, we are here for you!

Here at Strutmasters, we have a wide array of employees with various certifications and backgrounds. With our expert technical staff, you can rest assured that when you buy from us, you have all of our combined education and skill-sets backing your new suspension!

Original Research & Development
You may have heard by now that we invented the air-to-non-air suspension conversion kit. Well it's true, and you won't find another company making that claim! We may have been the first, but you better believe we are still the best! Our R&D department focuses on making our older products better, while looking to the future to invent new conversion kits for customers who have no option but to continue to pay to have their faulty suspension systems repaired.